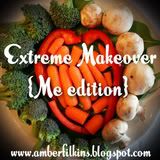 Be sure to visit
Amber's Blog
she has Mr. Linky set up to share more stories!
There are people there more motivational than me.
I gained~3 FREAKIN pounds!
I know that its my fault, I haven't put the effort into exercise these past two weeks. I didn't do an EMME post last week. My aunt that is like a mother to me is moving to a town 2 hours away from me!! YAY! I say YAY b/c she has been living 20 hours away for the last 10 years and I can't wait to have her closer. Last week I was gone for a few days to help her find a place to live. I ate horribly while I was traveling and the hours spent in the car were hard on my back issues. Bad enough that I have scheduled the MRI for tomorrow to find the actual problem, hopefully leading to a way to make the pain end!! (enough whining for now)
Amber's question of the week is:
Share some of the music that you work out to.
What helps you rock it!?
What gets your blood pumpin?
My favorite new workout song is
Black-Eyed Peas- BOOM BOOM POW
I am jammin' just thinking about that song. LOVE IT!!
My playlist is made up of dance/old school rap!
Eminem
Justin Timberlake
Rhianna
Beyonce'
FloRida
Nickelback
Danity Kane
Jay-Z
Kanye West
Kardinal
Lady GaGa
Madonna
Pussycat Dolls
Salt-n-Pepa
T.I
Timbaland
Taylor Swift
Rascal Flatts
Toby Keith
Garth Brooks
Kenny Chesney
Will Smith
If I could get my workouts up to make through my entire playlist then I might be able to tip the scales in the right direction!
Pray that my MRI will bring some answers!!!