no scale to weigh myself. :) On the downside....too many mirrors. For some reason I never look at myself in the mirror at home. Maybe I am acclimated to them?? I imagine I divert my eyes when I see them! So staying in a hotel ALL by myself I am running around with mirrors everywhere! This is the week at Cheer camp.....luckily no one expects me to do any cheering-that could get ugly quick!
The girls are staying in a fairly new dorm room at one of the State University campuses. Their room is on the 3rd floor with no elevators. And in true college fashion nothing is close by, everything is a bit of a walk. In case I forget to mention it-I LOVE cheer camp!!! I cannot tell you when I last had so much fun. (sad, I know)
On to business. Its time for another week of Extreme Makeover Me Edition. Amber hosts our weekly support group (click on picture below) please go and support all of my buddies in this attempt to improve our health and our lives.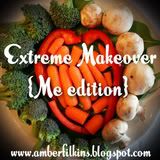 This weeks question "What's your favorite thing to drink while you're losing weight? We all know how important it is to get that water intake up, especially with summer almost here. What's your favorite way to spice it up?" is easy for me. I am not really a spice it up kind of girl. I have been getting a large water with extra ice from Sonic every morning! Yes it costs $.47 and its so worth it. After I finish that water I have enough ice to refill a couple of more times!!! My water intake has risen in the weeks since school got out and I have been doing it this way!