Here we are it has been another week. Be sure to visit Mr. Linky at
Amber's website
to learn more about her EMME!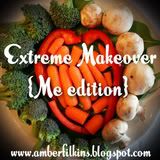 Yesterday morning I was feeling thinner, I weighed and was down 2 pounds. In my effort to actually keep things real I went ahead and weighed this morning and found yesterdays 2 pounds....yep! I am right back where I was last week. I really am feeling better. Everyday I am trying harder to drink more water. (with the help of my Sonic cup)
My arms are feeling smaller, my face looks smaller. This week I am going to embrace that small victory and let myself enjoy the progress hopefully it will emerge in the form of motivation! (let me just get out my ring for the wonder twin activate in the form of positive self talk) If you didn't get that....sorry! If you did-well you know what that means!
This weeks question posed to all of us is.......
"Who is your biggest supporter/motivator in your weight loss? Do you have anyone around you that tries to sabotage you by "talking" you in to eating the not so good stuff?"
My husband is supportive, would do anything I asked him to help me out. (I just never ask) He would never make a comment about what I am eating or not eating. Exercising or not. Unless I specifically ask him to. And I don't. I don't like that kind of accountability. It makes me so much more likely to "cheat" when he is not around!
I did say in my last post that my daughter has been all about the exercise! She is very active and really happy to push me into working out...and if I slip into calling myself fat, she is quick to say "your not fat" its nice to hear, even if I know better. (I am just sayin')
That leads to to the biggest sabotager (is that a word?) that would be me. I am too laid back. It shows in my diet! Which also shows in my butt.......