Welcome to another week of EMME! Amber hosts this weekly support group of women trying their best to improve their lifestyle. Be sure to click on the photo below to visit her site and all the other great ladies.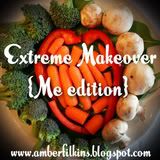 This was a good week for me. Remember I didn't weigh last week so the 2 pounds I have lost has been over a two week period. But as I have said before its better than a poke in the eye.
Last week while traveling I pretty much ate fast food. I did make good choices and do my best to cut down the soda consumption. When I have fast food I really like to drink iced tea, I am not a good iced tea maker, but I really do like to drink it.
I have been noticing that my arms and legs are smaller. We switched to AT&T uverse a couple of months ago. We have a channel called FIT TV. My oldest daughter has found this channel and appointed herself my personal trainer. Talk about motivating...she wants to spend that hour with me. Maybe its only so she can laugh at me trying to exercise but sadly she is at an age where I take what I can get.
Amber gives us a question each week to help us learn from each other. This week the question is:

Post a picture of the contents of your fridge so everyone can see how much healthy food is (not) in it.
In my attempt to keep it real I didn't try to neaten or rearrange anything even though I cringe everytime I open it these days.....summer is killing me!! My daughters have best friends that are sisters and they are always at our house or theirs. That gives me not 2 girls but 4 girls! I shouldnt complain, they do not mind fixing their own food! But then I end up with this, things just shoved in! BTW: look hard, not much healthy in there. *hangs my head in shame*