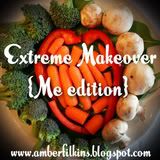 Welcome to another week of EMME. EMME is hosted by Amber, click here to check out her blog and visit the other participants.

My week....didn't go as well as it has in the past few. I am up .5 lbs. This seems minor, unfortunately even to me. I am not one to beat myself up over such matters, obviously or I wouldn't be where I am today. Its just that I am realistic about such matters. There will be up and down weeks.
Yesterday I had my first epidural injection to treat my back pain. I am very optimistic about it helping, hard to say if it is....there seems to be discomfort at the injection site. I go back on the 15th for another injection. I do intend to get outside and walk with the intent to call it exercise. Starting late this week. There is a long list of things I am not supposed to do, cleaning is on that list. Today I intend to enjoy it!!! My kids last day of school was Friday and we have not been able to spend one day at home. I have decided today will be THE day we spend at home. shhhhh.....I haven't told the kids yet!!
Every week Amber asks a question of all of us......but not this week!! Lucky for you, this post has gotten way to long anyway!!