Why is it that every week I am surprised I have not lost more than I have that week. Considering you get out as much as you put in, and evidently I am not putting enough in! (enough whining)
Welcome to another edition of Extreme Makeover Me Edition hosted by Amber be sure and go over and visit the inspirational Amber and Mr. Linky to give encouragement, something everyone can use!!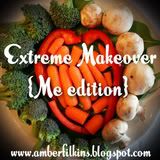 Every week Amber gives us a question to help us and others think about where we are, and where we are going and how to best get there. This weeks question is...........

Show us your inspiration picture. Of yourself skinny, of yourself fat, of a celebrity that inspires you to keep going.

See that doorway to the left of the mirror? That is my master bedroom, I wish I could count the number of times in a day I walk by here. Recently I have made and effort to actually slow down and look in the mirror, and really see myself. Not just the person my brain thinks I am. (in my mind I am 117 lb) In actuality I am not! That would be my unpretty picture.


What keeps you going?
Moving in the right direction, and if its working be sure to share!