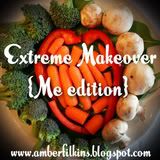 Welcome to another week of love from
Amber
and the peeps that frequent her blog! She gathers us once a week to share our struggles with eating better and becoming a more healthy person.
Here is how my week went! Like crap......I seem to be stuck. I guess I shouldnt complain too much, I am stuck at my lowest weight in the 8 months. But its just so frustrating. As I have said in the past few weeks, I would see more progress if I put more work into it!
My fridge went out on Monday. (the part wont be in until Friday) My biggest problem here has been no ice! Crap, I love me some ice. I refuse to drink anything without ice. Even if it is cold from the fridge it must have ice. I dont even drink coffee b/c warm drinks make me GAG! Ick.
And with the holiday this weekend I dont think things are going to get any better. Our little town has a parade, and a festival. After the parade instead of spending our money at the festival we host a neighborhood potluck. Kids swim, we shoot off fireworks, then we take our golf car to go watch the HUGE fireworks show that is done by the city to conclude the festival. We gather on the golf course where the country club sets up a bar for us to "visit"! Because fireworks and alcohol go together so well..........